Hot Animes This Season
Gate,
Akikan! Download Episode
Watch Akikan! Download Anime Episode for free with English Subbed. View Akikan! Download Episode Online.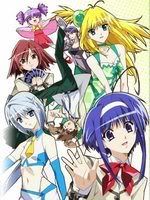 Plot Summary:
Daichi Kakeru is a sixteen year-old high school student who has never had a girlfriend. Little did he know that everything was about to change when he bought a melon soda on his way home from school. His first sip became his first kiss, as the can came to life in the form of a beautiful girl, who he called 'Melon'. The can is part of a government project called 'Akikan', where certain empty cans turn into beautiful girls. It's about a teenage boy named Daichi Kakeru. Daichi Drinks from a soda can and turns into a Cute Girl named Melon Soda and from there the two starts their adventure
Megaupload Links
if Akikan! Download are not working, please try one of the Video Mirrors.
You are watching Akikan! Download Episode in High Quality
English subbed
. Akikan! Download Episode is from
anime series. If you enjoyed Akikan! Download Episode please share it with others! Please note that this Episode is hosted on a third-party video sharing website, and it is not affiliated with
Chia-Anime
.
Anime

›
›
Episode